DIXON — It took a while Thursday afternoon for Dixon's women's soccer team to get going against a miserly Stillman Valley defense.
But once they broke through, the Duchesses increased the attacking pressure on the Cardinals. Led by Katie Drew's hat trick, they won the Big Northern Conference game 4-0 in the long-awaited home opener at AC Bowers Field.
"We tried many different formations; we tried this one on Tuesday and it kinda worked, but I feel like it cemented itself tonight," Dixon coach Kristin Carlson said. "I think they played very well. There were good passes, good teamwork.
"Stillman Valley is a good solid team; they were all over us, and we were getting around them and keeping possession tonight. I thought that was great."
On the Duchesses' fourth attempt in their first home game of the season, the weather finally cooperated with a beautiful day of abundant sunshine and a light breeze.
The teams went back and forth for the first few minutes, then Dixon (7-2, 4-1 BNC) started to control possession. Dixon racked up 10 shots in the first half, but only half of them were on target, and two of them were Drew goals.
Several of the misfires were too high or too wide, and a few just missed it. But Drew finally broke through in the 32nd minute, when she picked up a pass from Rylee Pfoutz and threw it into the net. Stillman's goaltender got his hands on it, but couldn't turn it away with 8:15 left in the first half.
The score remained 1-0 until the dying seconds of half-time, when Drew dribbled the ball into the box and eventually fired a shot over the keeper and under the crossbar with 1.9 seconds left before halftime.
"I knew there were 40 seconds when I got the ball back and then I dribbled and thought there couldn't be much left and I'd better take it away," said Drew about the cut with his second score. "We made the changes we needed in the first half and then at half time we discussed what we needed to keep doing. In the second half, I think we really clicked as a team and managed to shoot a lot faster.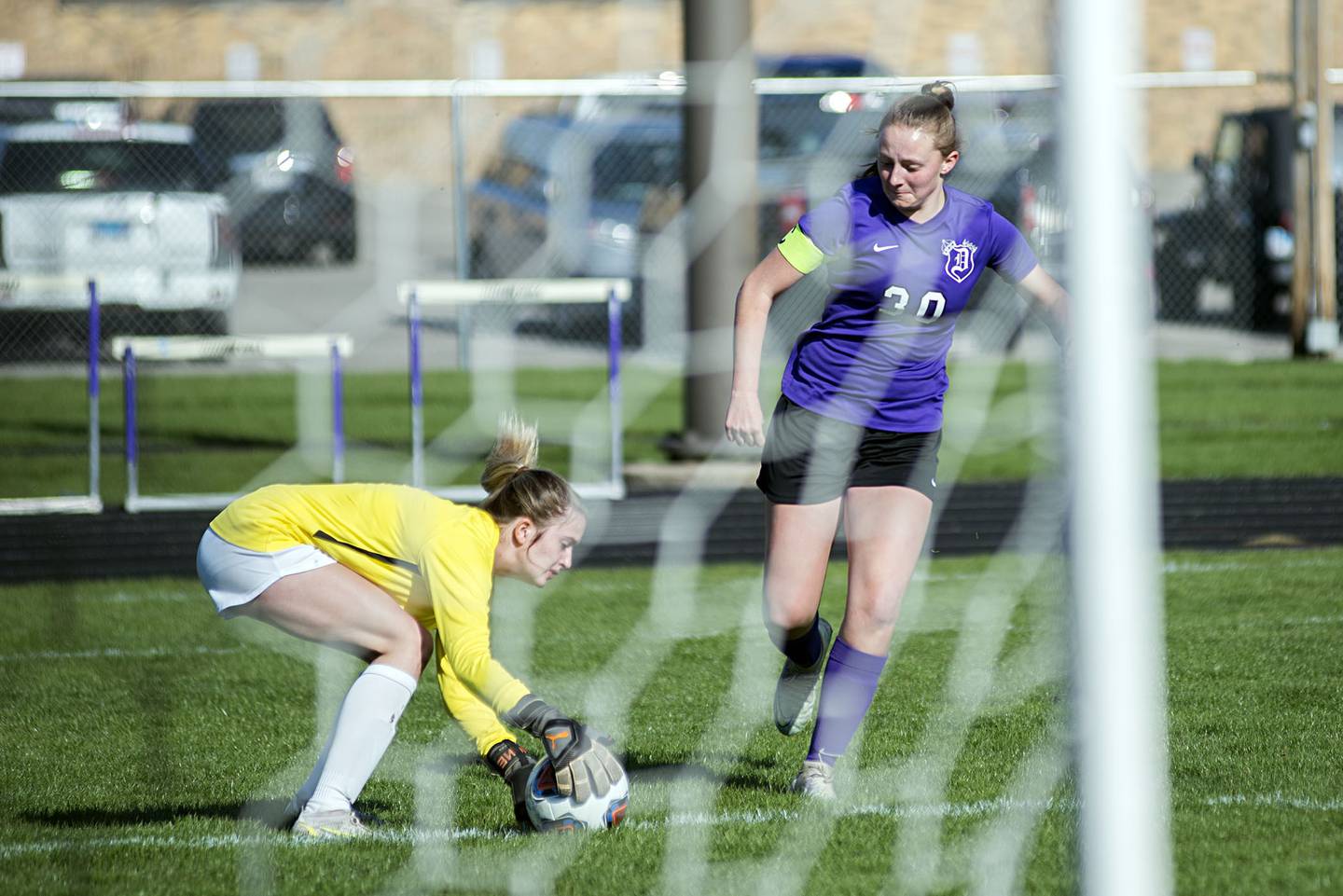 "I'd like to get the last five seconds of the first half back," Stillman Valley coach Erin McMaster said with a wry smile. "It was excellent timing on his part, and it gave them some momentum before half-time."
Dixon controlled possession for the first 25 minutes of the second half and Drew completed his hat trick with 30:13 to go. Makenzie Toms found the ball in an open area then passed it to Drew, who got past the defense to the pass and fired the ball into the hands of the keeper for a 3-0 lead.
"The first half we played better as a unit collapsing on the ball and forcing them to take outside shots or shots they didn't want to take, so they had a lot of shots at us , but not much on goal," McMaster said. "In the second half they stepped up and knew how to take advantage of our weaknesses a bit more.
Maggie Van Sickle finished the scoring for Dixon with 11:51 left, catching a clearance from Stillman (5-9) and knocking it through the keeper's hands from around 15 yards out for a 4-0 margin.
"I saw him coming straight at me and just tried to pull him into the corner," Van Sickle said. "I thought he had a chance, but I wasn't sure. It was a good shot, but it was kind of lucky that it passed. I'm just glad he came in.
The Duchesses outshot Stillman 18-9, with a 9-6 advantage on target. Hanna Lengquist was brilliant in front of Dixon's goal, making six saves and tracking down several more balls that found their way into the penalty area to thwart potential scoring chances for the Cardinals. Sweeper Madison Cumberland anchored a solid effort from Dixon's backline defense.
Both Drew and Van Sickle attributed the Duchesses' ability to control things and spend most of the game at the Cardinals' side to a lot of passing work in training and putting those lessons to good use in the game.
"We worked hard to make sure we passed as a team and to a teammate, and that's important to keep the ball," Drew said. "I think we did very well as a team today, and we all played very well."
"We are really working on our passes in training and we have the coaches to thank for that. They really helped us out there," added Van Sickle. "I think everyone in the team played a good game today."